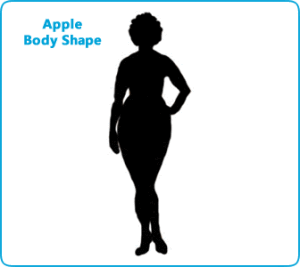 There are thousands of diet and fitness plans, most are just a waste of time or simply designed to take your money! What makes this plan different is the focus on you and your body shape.
Below you will find a free 28 day diet plan, just simply print it off and follow my advice. I have also designed an exercise plan that is fun but effective.
These plans have been created for apple shaped women only.
(See other shapes here)
Food and Diet
The ideal apple-shaped body diet proportion would be:
2/5 carbs
2/5 proteins
1/5 healthy fats
Trying to keep to these proportions is not essential but is ideal for your shape. You don't have to be a wizard in the kitchen to eat healthy, buying the correct food and making small changes to your current diet is normally the simplest solution.
Carbs – Carbohydrate intake should be based on low/moderate G.I foods.
i.e. Carbs that release energy slowly as oppose to rapidly which can result in fat gain due to surplus energy from these foods.
Low – Moderate G.I Carbs: whole grains, brown rice, vegetables, and fruit.
Protein – All proteins consumed should be lean and very low in fat.
For example, skinless chicken\turkey breasts, eggs, tuna in brine, lean steak.
Fats – Extra virgin olive oil should make most of the healthy fat in the diet.
Fat can help maintain healthy hair and skin, protects vital organs, keeps your body insulated, and provides a sense of fullness after meals. This of course can help make meal number restrictions when dieting more tolerable.
The 28 Day Diet Plan
Below is a 4 week diet plan designed for your body shape. Before you start the diet plan there are two important things you need to do.
1. Get Organized – It's important to be organized because if your not it's too easy to slip into old habits. A bad day at work, screaming kids and other stressful life events can and will have a negative impact on your motivation to succeed.
Follow my guide and staying on track will be easy.
2. Detox – It's time to detox and give yourself a fresh start. Below are two products  that will give you a full 3 day detox. No food just liquid. You can buy any of these products at local stores, but I have found the easiest way to stay organized is to simply buy from amazon.
Detox Tea – A body cleanse & prevents night hunger  (buy it at amazon here)
Raw Juice Cleanse – replaces food for a 3 day period (buy it at amazon here)
To keep organized I find it helpful to do the following:
Keep a weekly record of your weight and body measurements (waist, legs etc).
Take a monthly photo of yourself in the mirror (so you can see change).
Print off two diet plan weeks at a time.
Order the two weeks of grocery's from Amazon or go grocery shopping.
Try to stay one week ahead of scheduled as this leaves time for (delivery or time to go shopping).
If you have a family try to incorporate at least the main meals into their diet or you will be making/buying double.
As you can imagine the above diet plan has taken a lot of time to compile but it is extremely effective especially when combined with the exercise plan below.
If you feel you are overweight stick close to the above diet plan for the entire four weeks. At the end of the four week period you will notice a difference in body weight and shape.
It's at this point your efforts will go in one of two directions.
1. You slip back into old ways and return to your bad habits.
2. You continue into week 5 but struggle to notice much difference.
It's important to focus on direction two. The initial struggle is understandable; making diet changes is not easy for anyone but the effort in the long run will be worth it.
If you do persist and feel you are not making any more progress in weeks 3, 4, 5 this is perfectly normal and nothing to be concerned about. In the first two weeks you will loose weight and you may not be the size or weight you would like to be but everything takes time and if you continue eating healthy you will reach your goal.
One thing I will say about changing your eating habits is to stop waiting for something to happen. You have made the decision to change your lifestyle and are heading in the right direction. It's now time to consider improving your exercise plan.
Body Fact: The apple-shaped body is the second most uncommon figure with only 14% of women actually Apple-Shaped
Exercise Plan
45 mins to an hour of low to moderate body toning exercises around 5 times per week. Your diet is far more important than exercise, if you have an active lifestyle e.g. physical activity at work or chasing after children for most of the day then you are already burning calories.
The individual with the apple-shaped-body should be concerned with developing osteoporosis. This is a range of low impact exercise like cross training and swimming. Opposed to high impact cardio such as running or rowing.
If you currently don't exercise it's best to start off slow, exercising once or twice a week. Increasing your routine slowly over time and at your own pace. Don't try to do to much all at once you will probably cause an injury preventing you from exercising entirely.
Below is a workout plan that you should build up to if you currently do not exercise or if you are already exercising this workout is ideal for your body shape.
This two week plan is basically a mixture of activity's that are not to demanding but will burn calories. They are also fun and relatively easy to achieve.
You can change the activity's around or even change them to other similar activity's you enjoy more. The key is to stick with the plan (in terms of time) and to keep mixing the activities up to ensure it doesn't become "routine". You need to keep your exercise plan fresh for it to be effective. You are also more likely to succeed if it's not repetitive and boring.
Health Concerns For Apple Shapes
Any and every apple-shaped body is at risk of becoming over weight and once the weight is gained the only way to slim down is with a healthy diet and an active lifestyle. The biggest health issue with apple shapes is a build up of visceral fat within the ab muscles. This puts pressure on the outer walls of the abdomen resulting in the belly being forced outward.
Visceral fat differs from subcutaneous fat which is fat that resides between the muscle and your outer skin (This fat jiggles).
Visceral fat is associated with insulin resistance which gives rises to coronary disease, diabetes, heart disease high cholesterol and an increase in triglyceride levels.
Commonly, the higher the waist to hip ratio, the higher the risk one is to developing these problems in the future!
It's important to understand that the above health issues are normally a problem in later years of life, especially if you have not exercised or sustained a healthy diet. If you are looking to make changes now is the time.
Health Warning
As we spoke about already, if your body is apple-shaped with a high Waist-to-Hip-Ratio (WHR) you are susceptible to one or more serious health implications.
Type 2 diabetes, heart disease, high blood pressure, stroke, breast and endometrial cancer just to name a few. It is now clear why it's so important for you to keep down your weight and have a stable fitness routine.
Body Fact: Your body shape is a combination of skeletal structure, fat and muscles originating from your genetics.
Knowing My Body Shape
Identifying your body shape before you plan on undertaking any regime can be beneficial in many ways.
Body shape analysis can bring to your attention aspects of dieting, exercise and lifestyle which can all work together to make your fat burning workout plan and fat burning diets more effective when working towards your goal of having a beautiful body shape.
There are four different female body shapes if you are unsure which one you are you need to use a Body shape calculator
Once you know your shape you can now follow one of our body shape guides.
Body Fact: Estrogen's impact the female sexual characteristics breasts and hips but also effect fat distribution
We love to know how you are doing, what problems you are facing or aspects of our plans your are struggling with. Please feel free to contact us we would love to help you.

Did you like this article?
If so please share with your friends on facebook, G+ or twitter I am sure your followers would also like the information.
Learn about the ruler body shape