I struggled with my weight for several years trying to find the best approach to a slim body. I hopped from one diet plan to another and even tried medications that promised to work "miracles" within days. I eventually found Kelly's diet and workout plan designed for my body shape, I now have the body I've always wanted.
Amy – Ann Arbor Michigan
Cait and How She Lost 67 Pounds
Finding the apple body fitness plan that combines diet and exercise turned out to the best thing that happen to me. The best part about this is having the ability to customize the diet to my own taste. The fitness plan is fun while at the same time yielding immense results.  I've been following the plan for close to a year and I love the healthy lifestyle provided in the guide.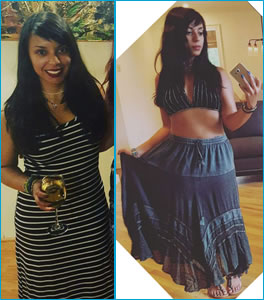 Shauna – Middleton Place South Carolina
Before I found the body2shape diet, I had tried and tested numerous diets and fitness plans that failed to deliver.  After using the body shape calculator, I realized that my shape was the hour glass which one of the complex shapes to maintain. However, with Kelly's help and advice its been easy.
Beth Feedback
Helen – Miami Florida
Janie – NY
Dominique – NC
My lack of curves has always made me feel unattractive. I started Kelly's ruler body shape diet and fitness plan 11 weeks ago, I now have a body to feel proud. It's wasn't just about the diet plan the daily emails helped keep me on track, you should charge for this service Kelly!
Emma – San Diego California

Video Testimonials