Regular body2shape contributor and self- proclaimed fitness guru Andrew Robson decided to put all of his expertise to the sword in January 2013 when he submitted his entry to this year's Bupa Great North Run. Four weeks later and his entry was granted. Although the event wasn't for another eight months Andrew started his training early, using his knowledge to give himself the best preparation possible.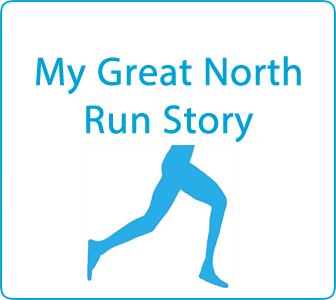 Andrew would be first to admit that his training schedule wasn't the strictest but at the same time he was focused on the task in hand. Initially in the early days of training he struggled to get anywhere near six or seven miles, never mind the dreaded 13.
For Andrew this was more of a psychological error as opposed to a physical fault. As the months passed however he began to yield his own advice, taking on board what he has shared with the body2shape public for the past six months.
A sports fanatic and a regular Sunday League footballer Andrew's fitness levels were already at an admirable level. He has competed in running events in the past however 10k has always been his preferred distance. He knew that if he was going to pass the finish line at South Shields on Sunday September 16 then he would have to up the training regime.
In this fascinating tongue in cheek account, Andrew shares with us the trials and tribulations of his first ever half marathon. As well as technical and fitness related information such as running styles and race plans, Andrew shares his emotions, giving his own views on a day he is never likely to forget.
The summer is nearing an end and the dark nights are closing in, the central heating is being switched on and the winter coats are being donned. For many families across the UK the first 30 words of this article have described a typical September night in their family home. For one budding athlete however the above is different, their eyes aren't on coat cupboards or central heating systems, they're focused on one thing and one thing only, the 2013 Great North Run.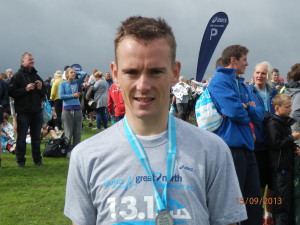 This individual is not anyone famous or anyone particularly special, I am not Mo Farah, I am Andrew Robson, no Olympic medals to my name, just pride, passion and a lot of training. This was to be my first ever half marathon, I wasn't sure what I had let myself in for, the day however could not come soon enough.
I was prepared for this day like nothing before. Despite a rocky start to my initial training I had managed to grow fond of blisters, sweat and 80's disco tunes. Just 12 days prior to the race I had completed a 13 mile route near my home, with help of course from my taste in music.
As I sat on a wall near the start area removing my tracksuit, thoughts went through my head, I knew why I was doing this. It was my own dream but one I wanted to share with so many others. Despite these thoughts and the reassurance that I had covered the distance less than a fortnight ago I was nervous.
My quest to complete the run began the afternoon after the2012 event, so jealous of those taking part and so disappointed that I had made no effort to enter I was determined to make 2013 my year.
My race plan was simple, start off slowly and I would get to the six miles mark in around 52 minutes. This would give me an hour to complete the remaining seven miles and have a good time to show for it. I knew starting quick didn't agree with me, it wasn't my style and today of all days I wasn't going to change my plan. I also knew that when I could see tarmac and had energy in the tank I needed to take advantage. However the stride of a 6ft 3 runner was not going to be suited to the tight conditions of the Tyneside course. Even still I knew my plan suited me and my running style, it was tried and tested.
The weather on the day of the race was perfect for running, overcast conditions with a bit of rain in the air. Those lining the roads of South Shields at the finish however didn't seem to appreciate the cold wet weather as much as I did.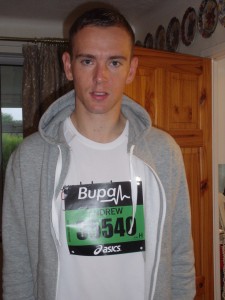 After stripping down to my running attire and packing my warm clothes into my luggage bag it was time to stand and shiver whilst I loaded my luggage onto one of the buses provided by the race organisers. After more shivering and a little more wondering about I began to head to the start line, I say line, what I really mean is the start mile.
The amount of people at the start area 40 minutes before the race started was staggering. It dawned on me at this point how many applicants there had actually been, 56,000 people is an awful lot, it wasn't the first time I was to say that throughout the day.
I hadn't trained for standing around and shivering, nor had I trained for consuming large amounts of water so my start to the race day wasn't exactly going to plan. Still I looked on and smiled as others were quite clearly in the same situation, I just wanted to run or go to the toilet, I can't remember which.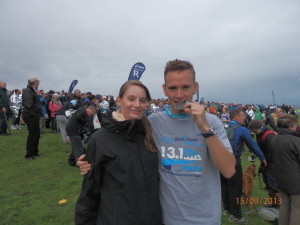 As the start of the race was getting nearer the starting area began to fill up with people from all walks of life. Women, men, young, old, black, white, there were people from every creed. The most heart warming notion I gathered from my observations at the start point was that we were all there for the same thing. Some were in fancy dress, others dressed in running gear, however we were all clearly taking part to enjoy ourselves. We didn't think this at the finish I haste to add.
It was at this point that the enormity of the event hit me once again, I had been in crowds of nearly 50,000 people before but nothing like this, this was huge. I did not let the size of the challenge ahead and the scale of the event affect me however, after all I had my simple but flawless plan to fall back on.  With the start of the race in sight I was prepared as ever, even if I was still desperate for the toilet.
After all of the typical shenanigans of the start, warm- ups, celebrity introductions, cheering for Mo Farah, starting horns and the like, I was ready to go, well that was what I thought. The clock started ticking and the runners at the front began to run, I however was still walking towards the start line, covering the same mile I had previously when I was searching for my starting point, two miles down 11 to go.
Over 25 minutes had past before I did eventually commute my way through the starting gate, Farah was more than likely halfway round the course by this point. Even still, mind over matter and all that, off I went.
The first site I witnessed frustrated me, a line of people relieving themselves and going to the toilet by the road's edge, in my eyes this wasn't fair. I'd waited 25 minutes to pass the start, I had been desperate for the toilet for the past hour and now I had to run past them all and make a start with the race. What an idiot, why didn't I stop?
I worked my way through the crowds, headphones in and switched off to the outside world. This was to be a constant theme throughout the race. I wriggled my way through, diverting from one lane to another before finally I found myself some room. After gobbling up the tarmac in front of me I then began to overtake once more, I wanted a decent time after all and some of these people were in no hurry.
As I had feared I did spend the majority of the race going past people who were travelling slower than me, to be kind. I hated this, I wasn't used to it, surprisingly enough I didn't train with 50,000 strangers so this was something new to me.
Whilst crossing the iconic Tyne Bridge I pondered, I must have done 13 miles in side steps, a slight exaggeration maybe but if this race was a sidestep race I would definitely be in the lead. However, this was partly my fault. When applying to enter the race I had no idea how long it would take me to complete the whole 13 miles. I therefore over estimated my expected time, hence why I was placed near the back of the grid.
All the side stepping and jostling for position had paid off by the five mile mark though as I was finally able to use the toilet facilities, by facilities I of course mean the roadside bushes. Some people were queuing to use portable toilets, I thought better of this with one eye on my stopwatch. Now, finally I was able to keep my mind focused on the race and not my bladder, I felt a sense of freedom as I plodded on towards the halfway point, this was easier than I thought.
I had trained well for this event, after all it wasn't something which could have been taken lightly, it was a 13.1 mile run. Running at least once a week and even training whilst on holiday in Egypt seemed like adequate preparation and this proved to be the case. In my eyes it was the least I could do for the charity I was running on behalf of, Erb's Palsy Group. The charity is close to my heart and this gave me even more determination to succeed, not just now on the day of the race but back in February when I started training.
So as I ploughed on past the six mile mark I was feeling upbeat and very confident that I could actually do this in a decent time. Rather than reaching this point after 52 minutes however I was nearer the hour mark. This was to be expected if you take into account the amount of sidestepping I had done by this point and of course the infamous toilet stop. With plenty of fluid on board I was now firmly focussed on the race. Although looking back, I was a brave man taking on another dosage of fluids given the recent activities of my bladder.
The empty drinks bottles by the roadside didn't deter me from going quick, neither did the on and off rain showers, I had to make up for lost time. After all this was the Great North Run, no time to hang around. With this philosophy in mind I began my assault on the last seven miles. By assault I don't mean I started tripping people up and trampling all over them. I mean I was ready for the task ahead.
As the miles ticked over and so did the clock, my legs began to tell me I was nearing the end. Unfortunately I don't have talking legs, instead I have a trained body. My legs had got tired 12 days previously when I had covered 10 or so of the 13 miles. I was now starting to get excited. Was this is? I asked myself and as I glanced to my watch I got a welcomed surprise, I was doing alright.
With the sea air filling my nostrils and the crowds beginning to swell I knew that somewhere in the vicinity was the finish line. You can imagine the shock when I realised I was only at the 11 mile point. What? Surely I should be trying on my t- shirt by now. Maybe I was premature with the metaphorical pat on the back I just gave myself.
With the taste of jelly babies still in my mouth I again upped the pace in an attempt to complete the race in a time to boast about, the legs were finally able to exploit space vacated by other runners. Jelly babies I hear you ask. Yes race marshalls hand them out to runners at certain points around the course so I made sure I got myself a fair share. Despite enjoying the mix of sugar and flour I was disappointed that I was still actually running the race.
Eventually however with the noise of the crowd ringing in my ears, drowning out Starship and Cyndi Lauper, I did manage to make my way down to the sea front, with the aid of a terribly steep bank. One mile to go. This was it, I wasn't going to get close to my expected time but that wasn't going to put me off.
The support of my family by the roadside spurred me on as I once more began my side stepping routine as I looked for room to run into. At this point I soaked it all up, it seemed a million years since I sat on that wall taking off my tracksuit. Everyone was shouting and cheering, it really was a sight to behold and something that will stay with me forever. There were flags, banners and open top buses but most importantly there were smiles on faces.
After running for one hour and 56 minutes I did eventually locate the finish line. Surprisingly, the stopping at the finish was the most painful part of the race, whilst running the final few miles I felt I would be able to do a couple more, at least that was my attitude. After stopping however I was done, even the walk to collect my goodie bag was a killer, not to mention the stroll to the luggage buses. Surely I had covered nearly 20 miles by this point?
Despite being very pleased that I had completed the race it was at the finish that I felt most involved even if I was struggling to walk. I mixed with others as I collected my belongings, listening to their stories and wondering if I had finished before or after them. This was what the race was all about, being able to say 'I did it'.
To my surprise I realised whilst listening to their stories that I had actually done quite well to finish the race without any real form of injury. I may have come away with a small blister on one of my little toes but this was nothing compared to what I heard and witnessed as I saw fellow runners get changed. Put it this way, chaffing has a lot to answer for.
My personal achievements seemed to be highlighted further when my family greeted me with hugs and smiles. It wasn't a wedding or a graduation but it felt that way, 365 days on from feeling jealous I was now the one making everyone jealous. The reception they gave me was admirable, they knew I was running just as much for them as I was myself. We took photos as the red arrows passed above us and as a group we shared a moment that was not about me but about 'us'.
Some would say 'mission accomplished', I would say mission underway. My participation in The Great North Run was never a matter of me gaining gratitude or proving how physically fit I am, it was about underlining the importance of enjoying exercise and raising awareness of lesser known charities. The smiles on the faces of spectators and runners alike highlighted this fact throughout the day. For me The Bupa Great North Run became The Bupa Great North Smile.
Andrew's story is not only humbling and humorous but also a great insight into what an event such as The Great North Run is actually like. This particular event is broadcasted by the BBC and for many this is their only means of following the race, the broadcast details however fail to portray a first hand experience such as Andrew's story.
This particular account shows the importance of hard work, preparation and determination to succeed. The references Andrew makes to focusing on his task and sticking to his race plan are aspects of this particular story they could and should be used by all budding sportsmen and women as a guide to personal success. Although Andrew mentions on several occasions how the race raised a smile across the North East there is an element of competitiveness throughout the story and this is something which everyone can learn from. As Michael Jordan once said, ''I play to win, whether during practice or a real game and I will not let anything get between me and my competitive enthusiasm to win''.
As a valued contributor to body2shape, Andrew has agreed to share his story with readers in order to raise awareness of long distance running and the enjoyment that comes with it. As an act of kindness he has agreed to not only share his story but to provide advice and guidance to any readers wanting to participate in any long distance running event. Andrew will be able to provide tips and hints regarding training, nutrition, planning, race plans, running techniques, equipment needs, warm ups, cool downs and psychological coaching.
We would love to hear from you and as always we really value your feedback and comments. Anyone with any questions to ask Andrew or even anyone with advice for future events should leave their remarks in the comment box and Andrew will try his best to respond to you all individually.