The best high protein shake recipe – perfect for strength and power based athletes who require large amounts of protein daily.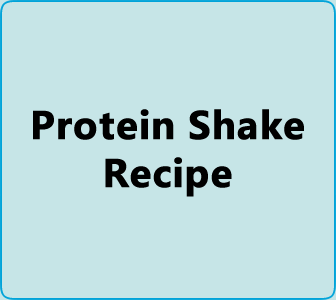 Protein is the primary nutrient essential for body builders, athletes and anyone else who needs to gain muscle mass and strength. Frequently, it can be tedious to prepare High Protein meals throughout the day and that's where protein supplements can help.
There are a simple to make, tasty and inexpensive compared to the price of making a meal with costly lean meat.
For serious strength or power athletes: 1.5 to 2 g of protein per lbs of body weight daily.
Although it is always more beneficial to get your protein from solid, natural foods it can become boring and many simply find them too bland.
Therefore, more and more people are opting for home made protein shakes. So, here are a few easy-to-make high protein shake recipes that you can concoct in no time.
Here are some of my favorite shakes I make from time to time.
Top Protein Shake Recipes
Chocolate Mint Protein Shake Recipe
2 scoops chocolate protein powder
1 cup vanilla ice cream
2 cups milk, non-fat
1 cup oatmeal
1 cup water
few drops of peppermint extract
Tropical Protein Shake Recipe
4 strawberries, frozen
½ a banana, frozen
½ a mango
2 tbsp pina colada mix, frozen
1 tbsp protein powder
1 tsp flax oil
1¼ cup water
6 cubes of ice
Oatmeal Meal Replacement Shake
1 cup quick oats
2 scps vanilla protein
3 tsps cinnamon
1/8 splenda
1 tbsp peanut butter
12 oz. water or low-fat milk
Heavy Gainer Shake
10-14 oz. water
1/2 cup almonds
1/2 large banana
2 x cps of whey protein
Splenda
Your Thoughts
Let us know what you think about our protein shake recipes, do you have a recipe you would like to share with everyone if so use the comment box below.
Sharing
Sharing articles on social networks is what makes things go viral, become a viral starter…..