Since the turn of the 21st Century gadgets have flooded the marketplace and the world of sport and fitness has provided developers with a new avenue to exploit. As the mobile phone, the television, the internet and computers have progressed so have stop watches, heart rate monitors and weighing scales. User interaction, performance tracking and performance comfort have become paramount, thus catalysing the need for up to date technology.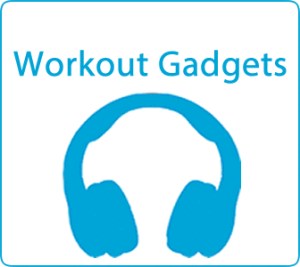 The internet was once used solely by computers but now its diversity has spread to mobile phones, games consoles and now workout gadgets. The internet allows users of workout gadgets to analyse their performance, load diet and exercise plans, compete against friends and family and track progress, amongst other features. Pre millennium this type of sport and fitness performance analysis would have involved either a lot of paper or a lot of money.
Although both the development of pre existing basic workout gadgets and the introduction of the internet have been an integral part of the advancement of sports technology, it is the new gadgets which are deemed the most impressive. The development of games consoles such as the Nintendo Wii and the Xbox 360 has opened a whole new world of sports, fitness and workout gadgets.
This article outlines six of the most popular and most impressive sports and fitness gadgets on the market today. Each item is described, providing information on prices, sports with which it can assist with, reasons to buy and reasons not to buy. The list has been created using the knowledge of users of each individual gadget and internet research skills.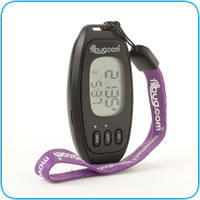 Sport: Gym/ Fitness
Description: The Fitbug is perfect for anyone with an interest in health and fitness, regardless of their sport or fitness levels. By looking at the device most would think it was just a pedometer. The Fitbug does have the capacity to calculate an individual's steps, distance covered and calories burned. It is the additional features however that make the Fitbug so popular.
Using the data it has collected this workout gadget can provide nutrition and exercise advice to help users meet their goals. This advice is specific to the individual and is generated using their own data. This feature is a great extra for people who struggle with motivation. Another fantastic feature is Fantasy Footfall, one of the device's modes which allows all Fitbug users to compete against each other, again great for motivation.
Why To Buy?: This gadget is suitable for anyone starting with a diet and fitness regime. The data output is very professional and tailored to the needs of each individual. One of the major draws to this device is the price. Compared to a lot of the other gadgets outlined in this article, The Fitbug is very affordable and easy to maintain with most retailers selling this workout gadget complete with a 12 month subscription. Unfortunately, the Fitbug does require a PC in order to be used to its maximum capacity, overall however it is a very affordable workout gadget.
Why Not To Buy?: The price reflects the value of this product, it is for beginners. Athlete's looking for a more professional workout gadget would not be too impressed with the Fitbug. Although the data output information is detailed and specific to individual users, some users would demand a bigger range of data output. The data is not sport specific and is lacking in certain areas. Overall a good gadget for beginners but not suitable for those with a professional attitude towards exercise.
Price: £34.00 or $55.00
Click Here For More Information And User Reviews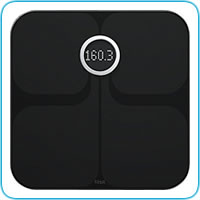 Sport: N/A
Description: Although not sport specific, this workout gadget is a must for anyone with an interest in diet, health, fitness and weight loss. For a lot of people the whole purpose of part- taking in physical activity is to lose weight and the Fitbit Aria Smart Scales are designed to help them along the way. Although the scales cannot physically help with weight loss their design allows users to track weight loss, weight gain, body fat and BMI via a WiFi internet connection.
The scales operate in the same way as regular digital scales except their output is much more advanced. Within seconds of stepping on the scales users can have all of their information uploaded to their PC. The Fitbit Aria Smart Scales have an internal memory with the capacity to remember data for up to eight people, this means regular users can track their progress over a period of time without the fear of losing previous data.
Why To Buy?: One of the outstanding features of the Fitbit Aria Smart Scales is its use of mobile web apps. The access to the apps, which all users are given, allows food logs, activity history and performance goals to be recorded. Those with a serious interest in weight loss and weight management will find this feature fascinating. Performance can be analysed against physical activity participated in and food consumed, allowing users to thoroughly examine how their body reacts to certain situations. Certainly more than just an ordinary pair of scales.
Why Not To Buy?: Unfortunately it is the price which lets this particular product down. The BMI, body fat and app features may be brilliant but they would have to be used to their maximum in order to gain value for money. For a family of eight serious fitness fanatics the Fitbit Aria Smart Scales may be a very good buy, for anyone else however these scales may be too advanced and too advanced. The Fitbit Aria Smart Scales are designed for serious fitness athletes, there are certainly cheaper products out there for people just wanting to know how much they weigh.
Price: £80.00 or $129.00
Click Here For More Information and User Reviews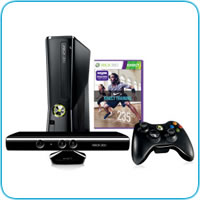 Sport: Gym/ Fitness
Description: This gadget is fantastic for those who enjoy exercising at home, although not the cheapest gadget in the list, the fitness benefits are great. The Xbox 360 Kinect Training Package uses a similar interface to the Nintendo Wii, another great workout gadget.
The console and the Kinect accessory give the user full control over their gameplay. There are a variety of Xbox 360 games which use the Kinect accessory, these include driving and adventure games. However it is the Kinect Training game which is most helpful to users wanting to improve their fitness.
Kinect Training is endorsed by Nike and encourages users to partake in a variety of strength, endurance and overall fitness activities. The game analyses athlete performance over a four week period, assessing overall goals. The interactive nature of this workout gadget allows users to compare their performance to that of friends, family or even professional athletes.
Using Nike's expertise and know- how, the game combines its sports science knowledge with the competence of Nike's elite coaches to produce a first class fitness gadget. The design of the game makes it easy for users to follow, making exercise accessible to all without the muddy trainers and freezing hands.
Why To Buy?: Any workout gadget endorsed by a sporting powerhouse such as Nike is always worth a second look. This interactive fitness game is perfect for people without the time or the confidence to go to the gym, it is convenient. This game is a must for anyone with a competitive attitude, the interactive progress chart means exercising with friends and family has never been so thrilling.
Why Not To Buy?: Despite being a fantastic workout gadget, this game is certainly value for money provided you already have either an Xbox 360 or an Xbox 360 with Kinect. Buying the console and the Kinect accessory specifically to play this game however may not provide value for money. Those interested in this gadget but do not own the console or the accessory should seek to sample the gameplay before purchasing.
Price: £230.00- £280.00 or $372.00- $452.00 (including 4GB console), £11.99 or $19.00 (game alone)
Click Here To View Product and User Reviews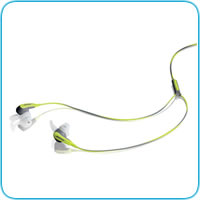 Sport: All sports
Description: Bose are experts in sound technology but with this product they have added a sporting dimension to their design process. These sports specific earphones are perfect for anyone wanting to exercise to music. The thought that has gone into the design of these earphones is unbelievable, they really are ideal for any sport and with this product Bose have successfully eliminated flaws experienced with other earphones.
The intelligent design of the earphone buds has resulted in a more efficient product, meaning they will not fall loose from the ear regardless of the intensity of the workout, running, cycling, weight lifting, they have everything considered. Although the design is slightly unorthodox in comparison to standard headphones, Bose have still prioritised comfort. This workout gadget is also completely sweat and weather resistance, meaning it is not only comfortable but durable too.
In addition to the great design, as always with Bose products the sound quality of the SIE2i earphones is fantastic, great for those who use music as a source of motivation. The additional features also make these earphones a must- have workout gadget, these aren't just standard earphones. The earphone cable has a separate song control button allowing users to manage their music whilst on the go, this button also allows users to take phone calls whilst using the gadget, something which is perfect for anyone using this workout gadget with their mobile phone.
Why To Buy?: The design ideas which have contributed to this gadget have made it the best sports earphones product on the market. Bose are one of the best manufacturers of sounds products but with their SIE2i headphones they have managed to successfully cater for anyone interested in sport. The most impressive design feature is the bud, specifically designed to fit and stay in the ear. Anyone who has used standard earphones whilst exercising will know that earphones falling loose from your ears can be frustrating, particularly whilst exercising on the move.
Why Not To Buy?: Although the sound quality of these headphones is outstanding, those looking specifically for the best sound technology available should look at other Bose products. These earphones are made for sport and therefore anyone using them simply as a means of listening to music will not be using this workout gadget to its full capacity. Again, like a many other gadgets in this list, the Bose SIE2i headphones are not cheap, there are more affordable earphones on the market but their quality lacks in direct comparison to this workout gadget.
Price: £130.00 or $210.00
Click Here To View Product and User Reviews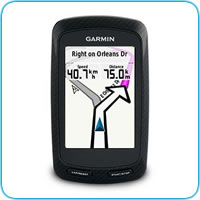 Sport: Cycling
Description: This touchscreen cycling GPS computer provides users with outstanding navigation and performance output. This workout gadget is an all round cycling analytical tool, providing information on speed, distance, ascent, descent and location. Garmin have been one of the pioneers in satellite navigation for years and this gadget presents all which is good about their products.
Unlike your average bike speedometer, the Garmin Edge 800 is made to withstand all the elements experienced during a bike ride. It is robust, meaning it will survive hard knocks and its waterproof outer case means it can't be damaged by rain. In addition to this, the gadget's user interface is also designed to suit those who need it most. The simple touch screen device navigation allows cyclists to use this workout gadget whilst on the go, the touch screen is even responsive when wearing gloves.
This gadget is a must- have for all serious cyclists, it houses pre- installed cycling routes covering a number of UK cities in addition to routes identified by other Garmin Edge 800 users. The device is fantastic for training, with a goal setting feature, and for competition, enabling all Garmin Edge 800 users to compete against each other.
It is this workout gadget's training feature which makes it such a hit. The feature allows users to both monitor and modify their cycling performance, particularly popular with really serious cyclists. The Garmin Edge 800 comes complete with an attachment bracket to fit the device to your handlebars, a USB lead to connect the device to a PC, an AC charger to power the gadget and a user manual to assist users.
Why To Buy?: Compared to a standard speedometer this workout gadget is far more advanced, its features are mind blowing. Any keen cyclist should own one of these gadgets, particularly those with a professional interest in the sport. The Garmin Edge 800 is far more developed than even the standard car sat nav, presenting cyclists with a thorough training guide, performance analysis and a platform to compete on professionally. This is another gadget ideal for those with a professional attitude.
Why Not To Buy?: Despite its professional features and elite level cycling analysis equipment, this gadget is certainly not cheap. Retailing at nearly $500 the Garmin Edge 800 is not targeted at casual cyclists, instead it is designed for professional cyclists. Anyone with just a vague interest in cycling would not appreciate this gadget for what it is worth and would definitely struggle to use the Garmin Edge 800 to its full capacity.
Price: £310.00 or $499.99
Click Here To View Product and User Reviews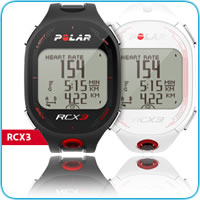 Sport: All sports
Description: The first of its kind included in this article, this sports watch and heart rate monitor is a great gadget with many unique features. Like many other modern day sports gadgets the Polar RCX3 uses the internet to help users analyse their performance post exercise. The gadget's small screen is great for monitoring basic performance during exercise but it is the full performance output which impresses users the most.
The user display updates heart rate and performance speed data whilst exercising, allowing users to keep track of their performance, this feature is specifically designed for runners, meaning they can track their running speed against the intensity at which their body is working. The GPS sensor is another of this workout gadget's impressive features. The sensor tracks, speed and distance and can update users on how fast they need to run in order to achieve a target time. Although this feature is best suited to runners it could also be used during a number of other fitness exercises too.
The third and most impressive feature of this workout gadget is the ZoneOptimizer. This gadget has five pre- installed zones. The Polar RCX3 has the ability to analyse your heart rate and then select the zone in which you should be exercising. This means that the pre- installed settings will guide users through exercise, setting realistic goals and analysing performance. Once fitness levels increase and heart rate levels change, the gadget can switch zones. This feature allows users to progress through zones on route to optimising their individual fitness levels.
Why To Buy?: One of the main reasons for buying this workout gadget is that it isn't limited to just one specific sport or exercise. Although the gadget is designed for those who run, it can be used by anyone who regularly participates in sport and exercise. The watch is safe to wear during sports activities and can therefore be used by anyone who plays a contact sport with performance still able to be analysed. Footballers, rugby players and tennis players alike can all use this device as well as runners and cyclists, each benefiting from the greater user output.
Why Not To Buy?: It is difficult to highlight reasons not to buy this workout gadget, even the price provides good value for money. The only drawback could be that compared to other gadgets included in this article, the Polar RCX3 lacks a competitive feature. The watch is designed for users to track and analyse their individual performance and does not allow users who have a device each to compete against each other. In comparison to other workout gadgets such as the Xbox 360 Kinect Training Package, customers may find the Polar RCX3 lacks an element of user interaction.
Price: £165.00 or $267.00
Click Here To View Product and User Reviews
As always Body2Shape appreciate the views of their readers. Anyone with any experience of any of the workout gadgets included in this article or any gadgets they feel should be included is invited to leave a comment. In addition, anyone with any questions relating to any of the six workout gadgets is encouraged to leave a comment and our team will respond as soon as possible.