You ask a non-runner if they'd ever run a marathon and you'll almost certainly be greeted with a "not a chance". It may seem a daunting prospect to have to replicate the monumental feat originally performed by the Greek messenger Pheidippides, but here are five excellent reasons to run the 26.2 mile race.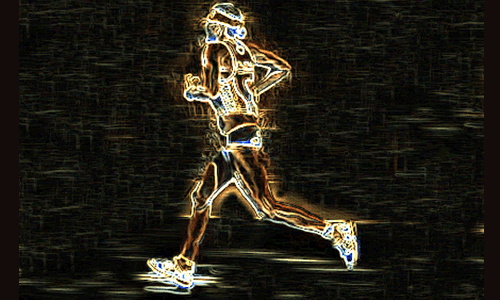 1. A sense of accomplishment – Only a small minority of people run on a regular basis, and even fewer still actually partake in organised running events. Being part of this minority group will give you a sense of achievement like no other. Crossing the finish line will give you something that you can keep with you for the rest of your life. You'll be proud of what you've achieved, and people will give you respect for doing it too.
Being able to say that you are part of the elite minority who have had the focus, drive and determination to train and run such a grueling event is a wonderful feeling.
2. Raising money for charity – Did you know that the last 5 London Marathons (2009-2013 inclusive) have raised over £250,000,000 for charity? Almost 75% of runners are running to raise money for a worthy cause. Whether it be in memory of a loved one, to help cure cancer or for something smaller and local; running a marathon for an important cause is a great way to further motivate you to train and work hard.
This is especially relevant for those who aren't used to the levels of physical dedication and training required. As the donations keep coming in (along with words of encouragement), it'll give you the extra motivation you need to get out of bed on a rainy morning when you know you need to do that extra 5 mile run.
3. Lose your bad habits – If you're serious about training to run a marathon, there are certain things that you'll have to cut out. Running a 10-15 mile run on a Sunday afternoon becomes much more difficult if you're smoking 20 cigarettes a day. You'll gain a sense of caution when you go to buy cigarettes, or open a bottle of wine. Your focus and drive will be tested, but you have the opportunity to replace your bad habits with healthier ones – you'll notice a difference after as little as a week or two.
4. A reason to eat! – The physical demands of training for a marathon, as well as the marathon itself means your body is almost always working – even on a rest day. As a result of this, you gain a license to eat more carbohydrates such as bread and pasta as they help fuel you for your intense training schedule.
So although you still need to eat healthily (cut out the donuts and cream), you have permission to eat much more – up to 4,000 calories a day in the days leading up to the marathon itself.
5. Get In Shape – Arguably the most obvious of them all. The need to run regularly in order to train for a marathon (around 40 miles per week is recommended) means that you burn calories at a rate of knots. At around 120 calories burned per mile, which equates to 6,000 calories per week – and over 3100 for a 26.2 mile marathon itself.
The fact you can eat more will balance this out and a combination of them both is important to stay healthy. Your body fat percentage will decrease as the fats in your body are used up as energy to push you through those final few miles. Running regularly when training will tone up your legs, arms, abs and pretty much every area of your body. More often than not, this is the best incentive to carry on when you're finding it tough.
These reasons should surely make you want to don your running trainers and pound the concrete. Imagine the good feeling you get after a single run or workout, and then imagine the feeling you'll get when you cross the finish line after running a mile marathon and the months of training that went in to making it possible – and if it has helped raise money for a worthy cause too, then that's even better!
With arguably the famous marathons being in London and Boston, there are actually marathons taking place almost every week around the world, so with all of the benefits mentioned above, and the increasingly easy access to a local marathon – there really is no excuse.